NEWS RELEASE:  More INCREDIBALL Programming Announced for the 2018 Redpath Waterfront Festival 
An unforgettaball beach party is coming to Toronto's waterfront in two weeks. Inspired by leisurely sun-drenched days by the water, this year's Redpath Waterfront Festival, presented by Billy Bishop Airport, will bring visitors three days of carefree fun and endless entertainment.
With a giant beach ball art installation, a whimsical H20-themed circus show, a Family Fun Zone and loads of delicious food and drink, the Redpath Waterfront Festival, happening June 22-24, is the best place to kick off the summer of 2018.
"Redpath Waterfront Festival is a must-attend event on the waterfront and Billy Bishop Airport is a proud and long-standing sponsor of this celebration of everything we love about summer," said Deborah Wilson, Vice President, Communications and Public Affairs. "Whether you're going to see the beach ball installation at HTO Park, visiting the water-themed circus, enjoying the HMCS Oriole along the dock wall, or taking in the food and drink offered throughout the waterfront, the festival has something for everyone."
One of the main attractions of this year's festival is a large kinetic installation called the HTO Pendulum Wave, presented by Menkes. Based on the physical laws of science's popular instrument the pendulum wave, Canadian designers at Decor & More were inspired by the waterfront, the beach, and fun in the sun for this custom installation. The HTO Pendulum Wave will be made of six 6.5 ft diameter beach balls suspended from a truss frame that is 22 ft high, 42 ft long and weighs 19,000 lbs in total. The balls will swing from the truss multiple times a day for visitors to see the natural wave in motion. HTO Pendulum Wave will be located in HTO Park.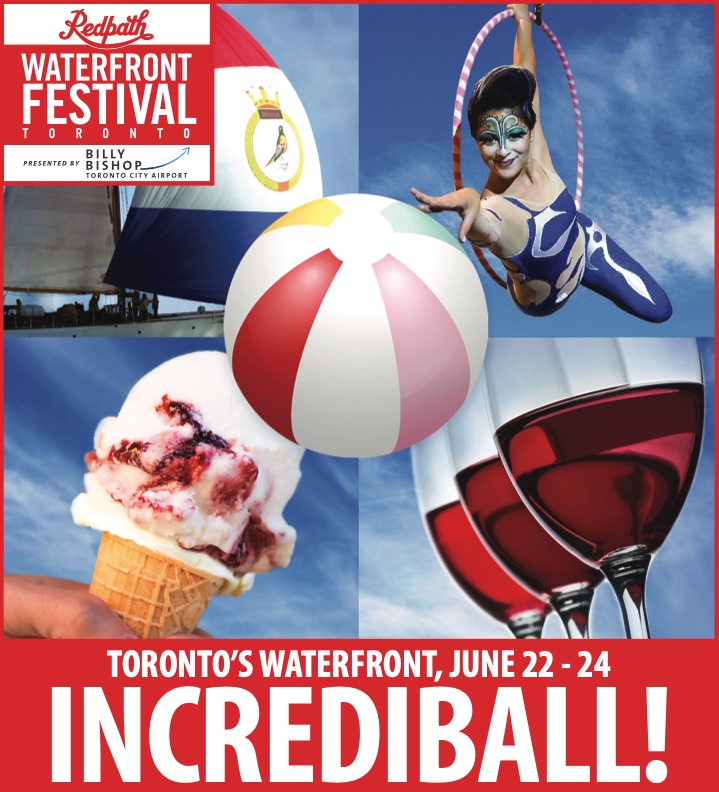 Another custom program at the festival, which is also inspired by water, is Aqua Cirque, an H20-themed circus show taking place in Sherbourne Common. Join a small but heroic seahorse on a whirlwind underwater adventure. On the journey, meet a gang of mystical creatures from dancing jellyfish to mermaid aerialists. The enchanting fun continues after each Aqua Cirque show where performers will teach audiences basic tricks, such as juggling, hula hooping, basic acro and more. Show times and the workshop schedule can be found here.  
Officers from the Canadian Armed Forces will be joining this year's festival, including the Royal Canadian Navy, the Royal Regiment of Canada and the Queen's York Rangers. Visitors will be able to try on gear and learn about daily operations in the Forces. As part of this program, the legendary HMCS Oriole will be sailing into Toronto for the first time in 25 years. The Oriole is a sail-training vessel that was based out of CFB Esquimalt in Victoria, B.C. for the past 60 years and just recently moved to the east coast joining the Atlantic Fleet in Halifax, N.S. She is a sailing ketch that was launched nearly 100 years ago making her the oldest commissioned vessel in the Navy.
Other festival attractions include a 42 ft (diameter) carousel, carnival games including big bottle ring toss and a duck pond, the Waterfront Artisan Market, Wine & Spirit Festival, Parks Canada activities and much more!
Redpath Waterfront Festival 2018 partners include: Redpath Sugar, Billy Bishop Airport, Menkes, Waterfront BIA, Government of Ontario, Government of Canada, Westin Harbour Castle, Cision, Porter Airlines, Bell Media and Toronto Star.
For details and updates follow @towaterfrontfest on Facebook / Instagram and @TOwaterfest on Twitter or visit towaterfrontfest.com.